Graphene A+
(Battery Grade)
Graphene Battery Grade have high surface area with excellent electrical and thermal conductivity, many-particles thickness go down to single-layer graphene . It is easily dispersible in various battery solvents such as NMP.
Purity

~99%

Thickness (Z)

~0.8-1.6 nm

Primary Dimension (X&Y)

<1 μm

Number of Layers

1-3

Surface Area

>400 m

2

/g

Bulk Density

0.014

g/cm

3
Get a Quote
Catalogue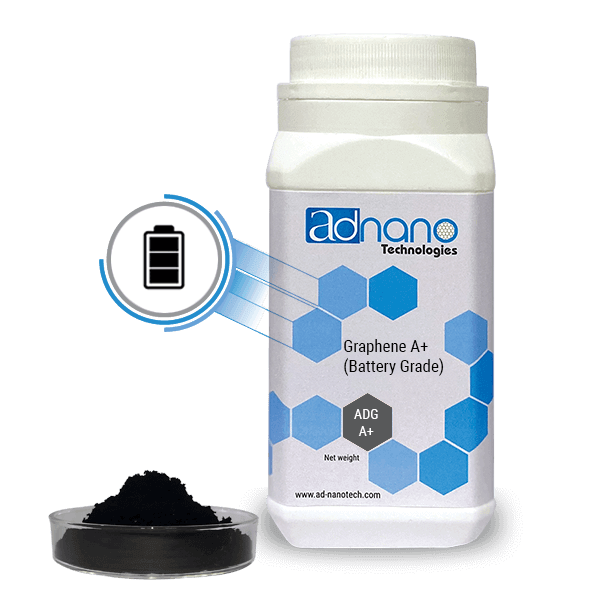 Advantages of Graphene Battery Grade
It has exceptional electrical conductivity, allowing for efficient electron transport within the battery system.
Easily dispersible in many solvents.
The increased surface area provides more active sites for electrochemical reactions, facilitating higher energy and power densities.
Its high surface-to-volume ratio and ability to accommodate ions on its surface make it an ideal material for enhancing the capacity of batteries, leading to long-lasting power sources.
It can withstand repeated charge and discharge cycles without significant performance degradation, resulting in a longer battery lifespan.
It can offer faster charging capabilities due to its high electrical conductivity and efficient ion diffusion.
USES
Applications of Graphene Battery Grade
GNP A+ is very lightweight with less defected honeycomb 2d carbon structuring and having minimum number stacking with high graphitized carbon. So Graphene A+ is used in many battery applications






AVAILABILITY of
Graphene Battery Grade 
Along with the powder form we can also provide it in dispersion or incorporate with various battery solvents such as NMP and much more.
Dispersion
We provide customized composition of ADG-A+ in various organic solvent such us Water, NMP, DMF, and Much more
Packing, Pricing & Delivery
Graphene battery grade  is supplied in Small Quantities for Researchers and In bulk quantity of Graphene battery grade to companies and institutes for application developments at the very cheapest price. please contact us for a quote. Our products are packaged in suitable, secure, tamper-proof enclosures. We have free delivery of  Graphene battery grade in India and also we can deliver globally.
Warranties and Disclaimers
Ad-Nano Technologies Private limited (ANT) warrants that its products shall conform to the description of such products as provided by ANT through ANT's literature. This warranty is exclusive, and ANT makes no other warranty, like merchantability or fitness for any particular purpose. ANT's warranties made in connection with any sale shall not be effective if ANT has determined, in its sole discretion, that Buyer has misused the products in any manner. ANT shall not in any event be liable for incidental, consequential or special damages of any kind resulting from any use or failure of the products. This product is for R&D use only, Not for other uses. Please consult us for safe handling information.